This is an archived article and the information in the article may be outdated. Please look at the time stamp on the story to see when it was last updated.
A 23-year-old woman died after her car collided head-on with a big rig in Gardena on Wednesday afternoon, leaving her young passenger hospitalized, according to CHP.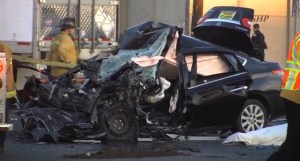 The collision was reported at 3:56 p.m., according to California Highway Patrol Officer Peter Bishop.
Video from the scene showed a totaled black Nissan Sentra sedan and a large big rig with its front grill smashed, blocking lanes.
The Sentra was heading westbound on El Segundo Boulevard when it side-swiped one big rig that was stopped in the center turning lane.
That collision caused the driver to lose control and end up stopped in eastbound lanes, where the Nissan was struck head-on by another big rig, CHP Officer Dan Zuleta said on scene.
Investigators were looking into witness reports that the driver was using her cellphone when she hit the first big rig, authorities on scene said.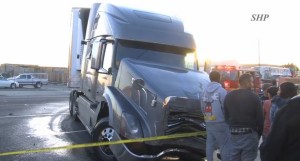 The Los Angeles County Fire Department responded to the crash, using the Jaws of Life to extricate the passenger, who was transported to an area trauma center. She was described as a girl in her early-to-mid teens.
It took 15 minutes to get the driver out, fire Battalion Chief Brian Askari said. She was declared dead at the scene.
The driver who died was a 23-year-old Los Angeles woman, CHP officials said on scene.
For several hours after the crash, the driver's body remained covered by a tarp in the roadway.
Her vehicle was towed away shortly before 10 p.m.
KTLA's Nidia Becerra contributed to this article.