This is an archived article and the information in the article may be outdated. Please look at the time stamp on the story to see when it was last updated.
A car slammed into a commercial building in Boyle Heights Sunday after a possible carjacking, killing a person who was clinging to the hood of the vehicle and injuring the driver, according to the Los Angeles Police Department.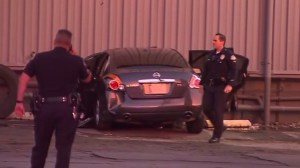 The crash occurred in the 3500 block of East Olympic Boulevard (map) at 3:50 p.m., a tweet from the Los Angeles Fire Department stated.
The incident began when two vehicles were involved in a collision a few blocks from the building crash scene. Soon after, a person unrelated to the initial collision allegedly got into one of the vehicles and tried to steal it, according to LAPD.
The car's owner then jumped onto the outside of the vehicle and tried to stop it from getting away, clinging to its hood as the car sped off, according to LAPD Sgt. Gary Lopez.
He managed to hang onto the hood of the car for about a mile until the vehicle slammed into the a commercial building and burst into flames.
The victim was pronounced dead at the scene.
"We are treating it as a homicide investigation until we get all the facts," Lopez said.
Police have not confirmed the man's name, but family members at the scene identified him as 19-year-old Oscar Perez.
The teen's family was too distraught to speak on camera, but they described Perez as the kind of person who worked hard, earned everything he had in life and had many plans for his future.
Family members also said Perez had just recently bought the vehicle.
The injured driver, whose identity has not been released, was injured in the collision and taken to the hospital, police said.
Firefighters arrived on the scene were able to extinguish the blaze, according to LAFD. The building did not sustain any major structural damage, fire officials said.
It was not immediately clear if any arrests had been made, but police said they detained a number of people at the scene.