This is an archived article and the information in the article may be outdated. Please look at the time stamp on the story to see when it was last updated.
A man was killed and another was injured after a shooting at a Halloween party at a Westminster restaurant and bar early Saturday.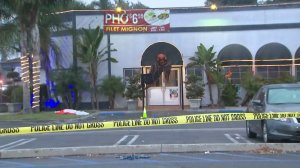 The incident occurred about 1:30 a.m. at Bleu Restaurant & Dancing, 14160 Beach Blvd.
One of the men who were shot eventually died, and a man who was being treated at the scene with what appeared to be a leg injury is expected to survive, police said.
The victim who died has not been identified.
Westminster Police Cpl. Andrew Stowers said there were about 100 people inside the lounge at the time of the shooting, and many remained at the scene after, video from the scene showed.
Investigators were hoping to piece together what happened by interviewing witnesses.
Halloween decorations were still up at the restaurant later Saturday morning as police remained at the scene. Many at the party appeared to be wearing Halloween costumes.
Police had no description of the shooter except that the person left on foot. The motive behind the shooting is unknown.
Anyone with information about the incident can call 714-898-3315.