This is an archived article and the information in the article may be outdated. Please look at the time stamp on the story to see when it was last updated.
One person was killed and another was injured in a drive-by shooting in South Los Angeles early Saturday morning, LAPD officials said.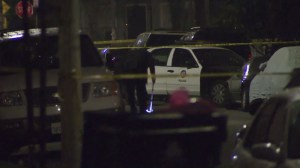 The shooting occurred about 12:30 a.m. in the 1500 block of West 53rd Street, according to Sgt. Rogers of the Los Angeles Police Department's 77th Division. The location is in the Vermont Square neighborhood of South L.A.
Few details were immediately provided about the shooting, but investigators believe a vehicle drove up and a person or people inside began firing. One man sustained a gunshot wound to the upper torso and another was hit in the leg, said LAPD Detective Refugio Garza.
Both victims were transported to a local hospital, where the victim who was shot in the upper torso was pronounced dead, according to Garza.
He was described only as a man in his mid-20s. His name has not yet been released.
The other victim was expected to be OK, Garza said.
The vehicle involved in the fatal incident was possibly a white SUV, the detective said. Police did not have a description of the shooter or shooters.
No further information was immediately available.