This is an archived article and the information in the article may be outdated. Please look at the time stamp on the story to see when it was last updated.
One person died and three others were hurt in a two-car crash in Santa Ana blamed on a drunken driving suspect early Sunday.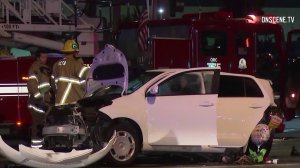 Jesus Segura Herrera, 29, of Orange is suspected of DUI following the 2:20 a.m. crash at Grand and McFadden avenues, the Santa Ana Police Department said in a written statement. His record has "prior arrests for DUI dating back to 2008," police said.
He was driving an Acura TL north Grand Avenue when he slammed into the rear of a Scion, police said.
Paramedics treated both drivers and one passenger from the Scion before taking them to hospitals, officials said. A second, rear passenger in the Scion was found trapped in the car and pronounced dead at the scene.
The identity of the person killed in the crash was not released Sunday.
Investigators determined Herrera was under the influence of alcohol.
Correction: An earlier version of this article incorrectly described what police said were Herrera's prior arrests as a conviction. The story has been updated.
At approx. 2:20 a.m. OCFA units were dispatched to a Traffic Collision with fire. Upon arrival, units found a 2-vehicle collision with 3 patients: 1 trapped (no fire). The incident was declared a Mass Casualty Incident and 2 patients were transported to nearby Trauma Centers.

— OCFA PIO (@OCFA_PIO) December 2, 2018