This is an archived article and the information in the article may be outdated. Please look at the time stamp on the story to see when it was last updated.
One person was killed and two others were injured after reports of a hit-and-run crash and a vehicle fire on a 170 Freeway offramp in North Hollywood on Thursday, authorities said.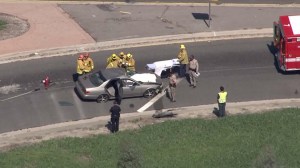 The fatal collision occurred on the Sherman Way offramp from the northbound 170 shortly after noon, according to the California Highway Patrol.
The first incident, which was reported at 12:09 p.m., was a hit-and-run collision with injuries, according to CHP's log.
About 6 minutes later, and in a separate log entry regarding a car fire, CHP reported that a vehicle had jumped the median and struck two pedestrians.
It was not immediately clear if the incidents were related or separate, according to CHP Officer Tony Polizzi. He confirmed that a collision and a car fire had occurred in the same area.
Tracy Young, who witnessed the fatal collision, told KTLA in an interview that she was across the freeway when she saw a car on fire.
She said four people had pulled over to the side of the roadway to the help the driver. They were approximately 10 feet from the car.
"Shortly after the fire truck pulled up, I was just looking over to see if the guys – and, it happened so quickly," Young said, choking back tears. "I don't know if cars clipped, and one got sent off the freeway, but the guys were just obliterated. The car just went right through."
Around the same time, she saw the firefighters running to extinguish the flames coming from the vehicle, apparently unaware of the collision that had just occurred.
"They didn't realize that something had just happened behind them," Young said.
The Los Angeles Fire Department, which responded to the scene, tweeted that one person was dead and two others were injured.
The victim who was killed in the collision ended up on top of the hood of one of the vehicle's involved, aerial video over the scene showed. A white sheet covered the person's body.
Two others were transported to a hospital, according to the Fire Department. Their conditions were not immediately known.
A SigAlert was issued about 12:45 p.m., and the No. 4 lane on the 170 Freeway was blocked for 3 hours, until CHP canceled the alert. The Sherman Way on and offramps were also shut down during down that time.
An investigation into the incident was ongoing.
KTLA's Crystal Garcia contributed to this story.
More video: