This is an archived article and the information in the article may be outdated. Please look at the time stamp on the story to see when it was last updated.
Three people have been arrested in connection with the shooting death of a man who was found with multiple gunshot wounds in an Alhambra garage on Sunday night, police said.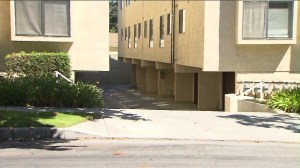 Officers responded to the 300 block of North Monterey Street about at 10:31 p.m. after receiving multiple 911 calls reporting shots fired, according to a news release from the Alhambra Police Department. When the officers arrived, they discovered the deceased victim, described as an Asian adult, inside a vehicle that was parked in the garage.
A man was seen fleeing the the area in a white Mercedez-Benz, driving south on Monterey, according to witnesses who said they had heard the gunshots.
A loaded handgun, believed to be the murder weapon, was later found near the scene of the shooting, according to the news release.
Two men and one woman, all Asian, were stopped while leaving the area in a white Mercedez-Benz and were subsequently arrested on suspicion of murder, Alhambra police said. The three who were arrested were not publicly identified.
The name of the victim was not released, pending notification of his family, authorities said.
An investigation is underway. Anyone with information regarding the shooting was asked to contact the Alhambra Police Department at (626) 570-5168, or Sgt. Flannagan at (626) 570-5161.