This is an archived article and the information in the article may be outdated. Please look at the time stamp on the story to see when it was last updated.
A teenager allegedly racing his brother was killed and three bystanders were injured – one critically – when two vehicles crashed head-on in San Bernardino Wednesday night, authorities said.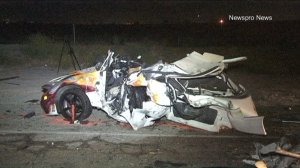 The driver of a 1992 Mitsubishi GT – who was allegedly racing his brother on Highland Avenue near Macy Street – lost control and collided with a 2011 Toyota Corolla that was headed in the opposite direction at about 10 p.m., according to news release from the San Bernardino County Sheriff's Department and Lt. Rich Lawhead of the San Bernardino Police Department.
The driver of the Mitsubishi was pronounced dead at the scene.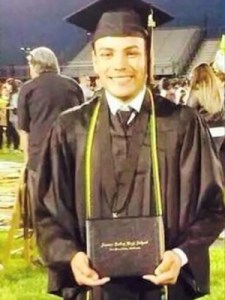 He was later identified by the county coroner as Mark Anthony Jimenez, a 19-year-old resident of San Bernardino. Jimenez's brother was not injured in the crash.
Thursday evening, dozens of friends and relatives gathered at the crash site to remember Jimenez.
"He was a great guy," said friend Angel Olvera.
The Toyota Corolla was not believed to be involved in the alleged street race.
The three occupants were injured and transported to a hospital. The victims were in serious condition but were expected to survive, Lawhead said.
Police later said the trio suffered "severe trauma" and were rushed into surgery with severe internal injuries.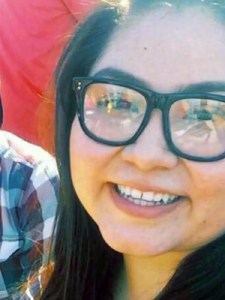 The Corolla driver, identified by police as 23-year-old Francisca Vargas, was in critical condition. She is from Rialto, Lawhead said, correcting earlier information from police that indicated she was from San Bernardino.
"She's really nice," neighbor Laisha Macias said of Vargas. "I just hope she's OK."
Meanwhile, Jimenez's cousin, Robert Soto Jr., cautioned others about the heartbreak that can result from street racing.
"It just hurts, leave it at that. Don't do something stupid," Soto said.
An investigation into the deadly crash was ongoing.
Anyone with information was asked to contact police Detective Peck at 909-384-5664.
KTLA's Melissa Pamer and Kennedy Ryan contributed to this article.
More videos: