This is an archived article and the information in the article may be outdated. Please look at the time stamp on the story to see when it was last updated.
Reality television star and former Olympian Bruce Jenner was involved in a four-vehicle collision on Pacific Coast Highway in Malibu Saturday afternoon that left one person dead and injured several others, authorities said.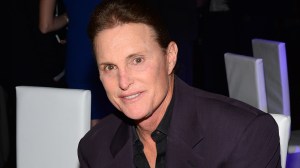 The crash was reported at 12:12 p.m. on Highway 1 near Corral Canyon Road (map), said Sgt. Philip Brooks of the Los Angeles County Sheriff's Department.
A blue Prius had slowed or stopped and was hit from behind by a white Lexus, according to the sergeant. A black SUV, driven by Jenner and pulling a trailer, rear-ended the Lexus and pushed it into a southbound lane, where it was struck by an oncoming black Hummer, Brooks said.
The driver of the Lexus, an elderly woman, died at the scene, the Sheriff's Department said. Her identity and exact cause of death were expected to be determined by coroner's officials.
Five people in the Hummer — two adults, a 1-month old-baby and two other children — suffered minor injuries and were transported to an area hospital for treatment, according to sheriff's officials.
The driver of the Prius declined medical attention at the scene, the department said.
A TMZ photo from the crash site, taken a short time after the pileup, showed Jenner walking around and talking with a firefighter.
Jenner, who was uninjured did not appear to be at fault in the incident, passed a voluntary field sobriety test and then went to a hospital to give a blood sample on his own accord, Brooks said.
Asked if paparazzi were involved in the crash, the sergeant said Jenner "was aware that paparazzi were following him, which is not uncommon for him."
The Olympic gold medalist "said he wasn't driving erratically to avoid them, because really on PCH there's nowhere to go," Brooks added. "He just knew that they were there and they seem to always be there, but they don't seem to be a factor in this collision."
All three surviving drivers involved in the wreck were cooperating with the investigation, sheriff's Cmdr. Mike Parker tweeted.
Hours later, a male driver drove past police tape at the scene and crashed into the Hummer and Lexus.
No injuries were reported in the latter crash, which occurred about 6:30 p.m.
The driver in the second incident was handcuffed by authorities and placed inside a patrol car.
The suspect, who had driven past a law-enforcement vehicle whose red lights were flashing, was arrested on suspicion of DUI, Parker said on Twitter.
After issuing a SigAlert around 12:30 p.m., the California Highway Patrol initially stated that all east and westbound lanes on PCH at Corral Canyon were expected to be closed for about 2 hours.
The highway remained shut down between Malibu Canyon and Corral Canyon roads until shortly after 9 p.m.
A former track and field athlete who placed first in the decathlon at the Summer Olympics in 1976, Jenner recently starred in the E! reality TV series "Keeping Up with the Kardashians."