This is an archived article and the information in the article may be outdated. Please look at the time stamp on the story to see when it was last updated.
An investigation was underway early Tuesday after a deputy fatally shot a suspected DUI driver during a pursuit that ended in the Vermont Vista area of South Los Angeles, sheriff's officials said.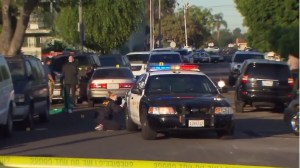 About 11:50 p.m. Monday, deputies from the department's South L.A. station began pursuing the alleged "reckless DUI" driver in the area of Century Boulevard and Vermont Avenue, according to the Lt. Victor Lewandowski of the Los Angeles County Sheriff's Department.
The chase came to an abrupt stop in the 400 block of West 111th Street (map), which ends in a cul de sac. With nowhere else to go, the driver turned around and allegedly began moving toward the sheriff's radio car, Lewandowski said during an early morning news conference.
Two deputies were in the vehicle at the time, and one got out, taking a position in a narrow space between the radio car and a parked vehicle on the street.
"The suspect advanced toward the deputy in a very narrow space, striking the radio car. The deputy feared that he was going to be run over and fired from his weapon several times," Lewandowski said.
The driver, identified only as a 40-year-old man, was struck an unknown amount of times by the gunfire, and was pronounced dead at the scene. The vehicle continued a short distance after the fatal shooting.
Lewandowski said the deputy outside the car had been hit by a vehicle, causing minor injuries to his legs and wrist, the lieutenant said.
Detectives were interviewing one witness, a female passenger who exited the vehicle right before it turned around on the street, according to Lewandowski.
After leaving the car, she "made some statement to the effect of, 'This guy is crazy," and it was at that point that the vehicle then came toward the deputy," he said.
He emphasized she was not in custody and was only considered a witness. It was not immediately clear what her relationship was to the driver.
An investigation into the fatal incident was ongoing.
Check back for updates on this developing story.