This is an archived article and the information in the article may be outdated. Please look at the time stamp on the story to see when it was last updated.
A driver who led personnel from multiple law enforcement agencies on a high-speed chase died after he was ejected from his vehicle in a Long Beach crash Tuesday morning, authorities said.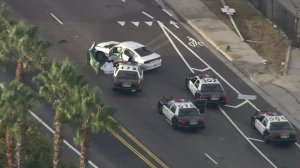 The incident began around 5 a.m. when a Los Angeles Police Department team conducting surveillance on "potentially known suspects that were involved in burglaries" allegedly observed them committing a commercial burglary in Bellflower, according to Capt. Mike Thatcher of the Los Angeles County Sheriff's Department.
An LAPD air unit was called in, as were patrol vehicles from the sheriff's Lakewood and Compton stations, as they attempted to initiate a traffic stop on a car connected to the burglaries.
The vehicle sped off, prompting authorities to initiate the pursuit, Thatcher said.
During the chase, the pursuit vehicle reached speeds of upwards of 100 mph, according to Thatcher. He said deputies had to pull back periodically from the car.
The chase ended when the pursuit driver crashed into an SUV around 6 a.m. in the intersection of Long Beach Boulevard and Victoria Street, then continued on and struck a fire hydrant. At that point, investigators believed the driver was ejected from the car, Thatcher said.
Deputies rendered aid to the driver, but he was pronounced dead at the scene.
The lone occupant of the SUV sustained minor injuries.
Deputies used stun bags to shoot out the rear window of the pursuit vehicle and see if anyone else was inside and injured, Thatcher said. No other occupants were found to have been inside the car.
Authorities have not released the pursuit driver's name, but relatives who gathered at the scene after the crash identified him as Anthony Hill, telling KTLA he was in his early 20s.
Hill had recently lost his grandmother and father within the past few months, according to Tarayne Rollison, his uncle.
"We buried his grandmother about a month ago, we buried his daddy like three months ago. So it's like back to back. Our family is going through a lot," Rollison said. "We know a lot is going on with these police officers out here, and doing things the way they're doing it, so … it's hurtful, it's sad. Especially when you can't get answers."
Two people were arrested at the scene after they crossed the yellow tape cordoning off the crime scene and refused to comply with police orders, according to Sgt. Brad Johnson of the Long Beach Police Department. They were booked on charges of obstruction of justice and resisting arrest.
"Our duty at these scenes is to protect the crime scene, and we have to take action. We can't allow anybody to cross the yellow police tape," Johnson explained.
KTLA's Jennifer Thang contributed to this story.