This is an archived article and the information in the article may be outdated. Please look at the time stamp on the story to see when it was last updated.
One man was killed in a police shooting near an elementary school in the city of San Fernando on Tuesday afternoon, authorities said.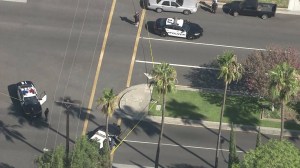 A San Fernando Police Department dispatcher told KTLA, reading from a statement, that the city and the Los Angeles County Sheriff's Department were investigating an "OIS" — short for an "officer-involved shooting."
Officers responded to the 800 block of South Brand Boulevard (map) about 3:30 p.m. after receiving a call of a "man with a gun" inside a residence, according to a news release from the Sheriff's Department.
As officers arrived, they saw a woman run out of the residence with an apparent gunshot wound, the release stated.
The officers were then confronted by a man who "produced a handgun," officials said. The officers shot the man, who was pronounced dead at the scene.
A loaded handgun was recovered at the scene, the release stated.
The female victim was hospitalized with injuries that were not life threatening.
Police were responding and streets were blocked off shortly after 4 p.m., aerial video showed. Multiple patrol cars were on scene, including Los Angeles Police Department vehicles.
Los Angeles firefighters transported two people to a hospital with minor injuries after being called to the scene about 3:45 p.m., a Los Angeles Fire Department official stated.
The scene was about a block from O'Melveny Elementary School.
The San Fernando Police Department did not immediately respond to requests for detailed information about the incident, only saying an officer-involved shooting occurred.
KTLA's Scott Williams and Kennedy Ryan contributed to this article.