This is an archived article and the information in the article may be outdated. Please look at the time stamp on the story to see when it was last updated.
A wildfire in Northern California intensified Thursday night, killing one person and prompting evacuations at a hospital as it moved into populated areas.
The Carr Fire was making a "significant push" into northwest Redding Thursday night, Cal Fire Deputy Chief Bret Gouvea said.
The fire has burned 28,763 acres since it began on Monday and was only 6 percent contained, according to Cal Fire. It destroyed 15 structures Thursday night and is threatening about 500 more.
Authorities said a bulldozer operator contracted by Cal Fire died Thursday while fighting the blaze. Officials were in the process of notifying the person's next of kin, the deputy chief said.
"As we mourn the loss, we also battle a fire that is moving extremely quickly and erratically into western Redding,"  Gouvea said. "We can confirm that we have additional firefighter and civilian injuries."
#CarrFire [update] Unified Incident Commander Chief Brett Gouvea gives a briefing on the Carr Fire. pic.twitter.com/IygmtSO5XJ

— CAL FIRE PIO (@CALFIRE_PIO) July 27, 2018
At least five babies are being evacuated from the neonatal intensive care unit at Mercy Medical Center due to the fire, hospital spokesman Rick Plummer said.
Some babies are being airlifted to hospitals in Sacramento while others are being transferred in ambulances.
While the hospital is not under a mandatory evacuation order, the infants are being evacuated because of the time and intense resources needed to relocate them.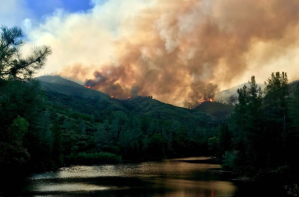 Medics and hospital staff have been directly impacted by the fire.
"Several staff members have evacuated their own homes then returned to care for patients" Plummer said. Several members have lost their homes."
KRCR, a Redding TV station, interrupted it's newscast and evacuated its facility Thursday night as the fire approached their studio.
"Right now we are being evacuated, that's why we are kind of closing out right now," said news anchor Allison Woods during a live broadcast. "We are going to leave the station because is now unsafe to be here."
Gouvea urged residents to heed evacuation orders and leave immediately. "This fire is extremely dangerous and moving with no regard for what's in its path," he said.
Earlier in the day, the blaze prompted Gov. Jerry Brown declared a state of emergency for Shasta County. States of emergency was also declared in Riverside County, where the Cranston Fire continued to grow and prompt evacuations after destroying five home, and in Mariposa County, where the massive Ferguson Fire has forced the closure of Yosemite National Park.
KTLA's Erika Martin contributed to this report.
#CarrFire [update] off Hwy 299 and Carr Powerhouse Rd, Whiskeytown (Shasta County) is now 28,763 acres and 6% contained. NEW MANDATORY EVACUATION ORDERS IN PLACE. Unified Command: @CALFIRESHU and Whiskeytown National Park. https://t.co/QmhauigUxW pic.twitter.com/gfCArUsL62

— CAL FIRE (@CAL_FIRE) July 27, 2018
#CarrFire [Fatality Statement] at Whiskeytown in Trinity/Shasta County pic.twitter.com/zXpH3tOhWE

— CAL FIRE SHU (@CALFIRESHU) July 27, 2018