This is an archived article and the information in the article may be outdated. Please look at the time stamp on the story to see when it was last updated.
One man was killed and at least 30 others have been reported injured after a tour bus crashed off Interstate 5 in Shasta County as it headed from Los Angeles to Washington State on Sunday, California Highway Patrol officials told Northern California television station KHSL.
The bus was traveling northbound around 7:40 a.m. when it ran off the road and down an embankment before rolling over on Eagle Roost Road, KHSL reported.
A 33-year-old California man was killed in the crash, according to the station. His identity has not yet been released, but he was reportedly from Parlier, which is near Fresno.
A total of 28 passengers were taken to area hospitals, including two who were listed in critical condition, the Los Angeles Times reported. Nine patients were in serious condition.
No other vehicles were reported to have been involved.
The crash occurred nearly 100 miles north of Orland, where 10 people died in April after a FedEx truck and a charter bus carrying prospective college students from the L.A. area collided on the 5 Freeway in Orland.
The bus in the latest incident was operated by a company called Yellow Arrow, which did not have a federal safety rating, the Record Searchlight reported.
CHP officials told the Redding-based paper that the bus had been involved in a second crash earlier in the day outside a Denny's restaurant located in Red Bluff, which is roughly 60 miles away from Pollard Flat, according to Google Maps.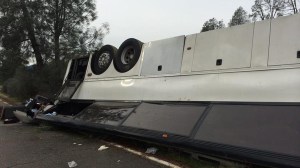 Investigators were looking into whether driver fatigue had played a role in the incidents, according to the Times.
"We've got reports from passengers looked to be sleepy or fatigued. There is no other indication that any other vehicles involved at this time," Jeff Borgen with the CHP told local television station KRCR.
One passenger, Francisco Corona, told KRCR that the bus driver didn't seem to be paying attention and the ride to that point hadn't been smooth.
"He looked clumsy," said Corona, who was not injured in the collision. "When he first pulled up to the Denny's where I was waiting to get picked up… he hit one of the signs."
Corona said he thought the driver might have fallen a sleep "a little bit" prior to the crash, but wasn't sure.
CHP identified the bus driver to the Record Searchlight as 67-year-old Jose Victor Garcilazo Palencia.
The cause of the crash was still under investigation.