This is an archived article and the information in the article may be outdated. Please look at the time stamp on the story to see when it was last updated.
Homicide detectives on Tuesday were investigating the circumstances of a deputy-involved shooting that resulted in the death of one man, according to the Los Angeles County Sheriff's Department.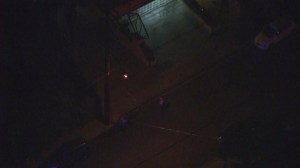 Deputies initially responded to an apartment complex in the 900 block of Palm Avenue around 9:30 p.m. Monday after a report of an assault with a deadly weapon, a release from the department said.
As the deputies approached an apartment inside the building, they were confronted by two men, according to the release.
"The men aggressed the deputies and a deputy-involved shooting occurred," the release said.
Deputies then entered the apartment after hearing sounds of scuffle and discovered two men fighting. One of the men was choking the other, according to the release.
The deputies were able to stop the fight and detained the men.
Four men were transported to a hospital, where the 24-year-old man who had been shot died "as a result of the gunshot wound incurred in the shooting," the release stated.
The three other men were treated for non-life-threatening stab wounds and were reported to be in stable condition on Tuesday.
Deputies recovered a large knife at the scene, according to the release.
The incident occurred in the same block where a man was arrested after allegedly stabbing his roommate to death less than two weeks ago.