This is an archived article and the information in the article may be outdated. Please look at the time stamp on the story to see when it was last updated.
Four people were shot, one fatally, early Sunday morning at The Standard hotel in downtown Los Angeles, the LAPD said.
The shooting took place about 2:40 a.m. at the upscale property in the 500 block of South Flower Street, according to the Los Angeles Police Department. Police initially said three people were shot.
Officers responded after receiving a call regarding a fight in front of the hotel, said LAPD Capt. Donald Graham. The report was "upgraded to 'shots fired,'" he said.
Two of the victims were found at the scene, and another was located about 10 blocks away at the intersection of West Olympic Boulevard and South Hill Street, a spokesman for the LAPD's Central Division said. It was unclear where the fourth victim was discovered.
All four were transported to a hospital, where one of them died, the Police Department confirmed. None were identified by name.
Hospital officials said the deceased person was a 21-year-old man, according to the Los Angeles County coroner's office. He would have turned 22 in about two weeks.
The condition of the other three victims was unknown.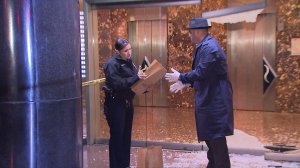 Witnesses told KTLA that at least two of the people who were shot were guests at the hotel, and that the shooting was connected to a party that was held there; the Police Department could not confirm that information.
No one was in custody in connection with the incident. A description of the shooter or shooters was not immediately available.
Shattered glass, bloody clothing and shell casings were seen at one of the entrances to the hotel.
Homicide detectives were interviewing witnesses and reviewing surveillance video at the location, Graham said.
The hotel temporarily stopped checking in new guests while investigators processed the crime scene, the LAPD said.
KTLA's Ashley Soley-Cerro contributed to this report.