This is an archived article and the information in the article may be outdated. Please look at the time stamp on the story to see when it was last updated.
Los Angeles police were responding three separate crimes scenes in a series of shootings that left one person dead and several others injured in the Palms area on Thursday afternoon.
In describing a developing investigation, police said officers responded to Woodbine Park  just after 3 p.m., when one man was found dead and another with gunshot wounds.
Witnesses said they heard seven or eight shots fired, and one of the victims crying out, asking why the gunman was shooting at a small group of people. Two people were hit, witness Zach Myers said.
The shooter drove away in a light-colored SUV, according to police.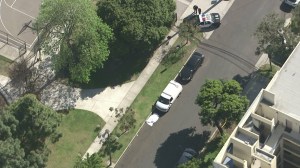 "I heard one of the victims that was shot — and he had blood all over his head," Myers recalled. "He said, 'Why is he shooting at us? Why is he shooting at us?'"
Myers said he and the girlfriend of one victim ran to help.
Another witness, retired firefighter David Moss, came to the aid of a second wounded man. "He had two gunshot wounds, one in his left thigh right near his groin and another one in his right buttocks," Moss said.
Moss also recalled seeing two men running "full speed" away from the park.
Near the park, aerial video showed a body under a sheet in the gutter.
Then officers found a third victim about a block away, in the 3300 block of Motor Avenue at Vinton Avenue. Police believe that individual was a victim of the shooting at the park who had run away from the scene.
That scene was initially reported by a Los Angeles Police Department spokeswoman to be the site of the first shooting.Then, more gunfire broke out in the crowded parking lot of a nearby shopping center at National Boulevard and Overland Avenue.
Rafael Rocha witnessed the shooting. He said two men drove into the parking lot and opened fire on two other men as they walked out of a 7-Eleven.
"There was no arguing, no fighting, they just let loose," Rocha said. "It was total chaos. Everybody was screaming, yelling, bullets were flying everywhere."
The two men in the car sped off, while the two men on foot were taken to the hospital. One of those men was later released from the hospital and was being questioned by police.
Four victims were injured, and two of those checked themselves into a hospital, according to LAPD Officer Tony Im. One of the victim was in critical condition and three others were stable, police said.
A perimeter was set up to search for the shooter or shooters, LAPD Officer Sara Faden said.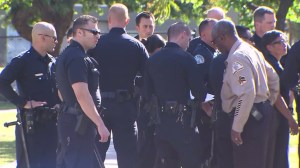 LAPD was on citywide tactical alert, according to a tweet from the department.
Investigators were seeking video and trying to determine what happened. Police said they believe the shooting were related.
Palms elementary and middle schools were temporarily placed on lock down, according to tweets from the L.A. schools police chief.
KTLA's Scott Williams and Kennedy Ryan contributed to this article.
More video: