This is an archived article and the information in the article may be outdated. Please look at the time stamp on the story to see when it was last updated.
One person was fatally shot by Los Angeles police officers in El Sereno Sunday morning and another person is being sought, officials said.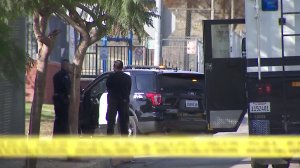 The incident occurred about 6:30 a.m. in the 3400 block of Amethyst Street, Detective Meghan Aguilar told KTLA.
Officers were responding to reports of two men in the area, one of which was believed to have a gun. When the officers arrived, an officer-involved shooting occurred, Aguilar said without elaborating.
One person was shot and declared dead at the scene by Los Angeles Fire Department personnel. The second person ran from the area and has not been found, Aguilar said.
A handgun was found at the scene near the person who was killed, police said.
No officers were injured. Investigators remained at the scene through the 10 a.m. hour interviewing officers and witnesses to piece together what happened.
Aguilar said the Amethyst Street in the area is expected to be closed for a few hours.