This is an archived article and the information in the article may be outdated. Please look at the time stamp on the story to see when it was last updated.
A man was fatally shot by police as authorities were serving a search warrant in Anaheim Thursday morning.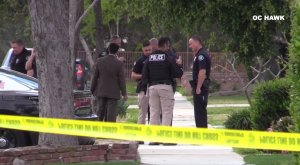 The incident occurred about 11:30 a.m. along the 500 block of North Harcourt Street, Anaheim Police Department officials said.
SWAT officers were assisting Irvine police in serving a search warrant involving two barricaded suspects, according to Anaheim  police Sgt. Luis Correa.
" During a search of the detached garage, Irvine detectives found a loaded rifle and heard noises coming from the attic," the sergeant said in a written statement.
SWAT officers responded to the scene, police said. Both suspects in the attic refused orders to come down and surrender.
Officers managed to use tear has to flush one of the men out of the attic, but he remained "uncooperative," Correa said. Police used less-lethal weapons to subdue him.
"A second male suspect remained barricaded in the attic and made verbal statements he would shoot officers," according to Correa. "Ultimately, an officer-involved shooting occurred."
Paramedics pronounced the wounded suspect dead at the scene.
The man who came down from the attic and a second person, both parolees, were arrested by Irvine police.
No further details were available.
APD investigating an Officer Involved Shooting that just occurred in the 500 block of N Harcourt St. APD SWAT team was assisting @IrvinePolice on a search warrant with a barricaded suspect. One male suspect struck by gunfire. Condition not known yet. PIO en route. Updates to come pic.twitter.com/oTw4QbPD1i

— Anaheim PD (@AnaheimPD) April 4, 2019