This is an archived article and the information in the article may be outdated. Please look at the time stamp on the story to see when it was last updated.
Homicide detectives and deputies were searching for a man who was seen fleeing a home north of La Verne where a married couple was found fatally attacked on Friday afternoon.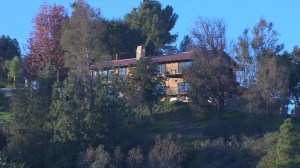 The 74-year-old wife died at the couple's home and the 89-year-old husband died after being transported to a hospital, according to Los Angeles County Sheriff's Department Lt. Dave Coleman.
The couple were the victims of blunt force trauma, Coleman said. Sheriff's officials initially said the assault was a stabbing.
The groundskeeper at the couple's expansive home found the homeowners after the attack, Coleman said. Both were found near the front door of the home.
Initially, the Sheriff's Department reported the couple's daughter found her parents in the 300 block of Roughrider Road (map), where the county Fire Department and deputies were called about 1:30 p.m. The daughter in fact arrived after the groundskeeper had called 911, Coleman said.
Friends and neighbors identified the couple as Troy and Shirley Isom. The Sheriff's Department later confirmed the victims were Shirley Isom and Armie Troy Isom.
Neighbors said the couple were wealthy and lived in a luxurious home.
Investigators were searching for an individual described as a Hispanic male, 25 to 30 years old, weighing about 160 pounds and 5 foot 7 inches to 5 foot 11 inches tall, Rodriguez initially said. He was last seen heading eastbound on foot from the home, she said.
The Sheriff's Department later said that no suspect information was available.
Neighbor Lorrie Guzzy said she saw a man in the area about 12:15 p.m. who was wearing a backpack and looked "homeless" and suspicious.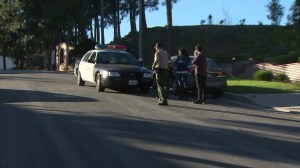 The home is in an affluent hillside community, where sheriff's investigators could be seen talking to residents on Friday afternoon. The investigation was expected to continue through the night because the size of the property, Coleman said.
"It's a shock," neighbor and friend Don Mineer said. "Just some crazy person who wanted something they had."
Troy Isom had been in construction for many years, Mineer said.
Correction: An early version of this story did not accurately depict a neighbor's description of the incident. It has been updated.
More video:
KTLA's Jennifer Thang contributed to this article.