This is an archived article and the information in the article may be outdated. Please look at the time stamp on the story to see when it was last updated.
A woman was critically injured during an apparent "domestic violence shooting" after being held hostage, and her ex-boyfriend was killed by police after a nearly three-hour long standoff on Thursday, according to authorities.
Authorities initially received a call around 2:20 p.m. regarding a man firing a gun in the parking lot of an Office Depot on Orange Street, according to a news release from the Redlands Police Department.
The alleged gunman, later identified by police as 29-year-old Andrew Mike, then entered the store in search of his recently estranged girlfriend, the release stated.
A confrontation allegedly occurred inside the store and Mike again fired his weapon, this time striking a bystander who was hit in the hand.
Redlands police Chief Mark Garcia tweeted that one person was shot inside the store at onset of the incident, and had injuries that were not life-threatening.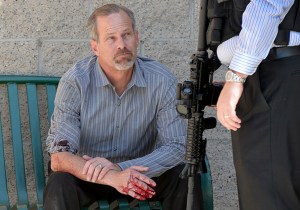 Police said Mike then forced the woman, identified by her father as Kristin Bauer, 28, to leave the store through a back exit and walk eastbound into a residential area on High Street.
The two could be seen sitting in a grassy area next to the street surrounded by a SWAT team and sharp-shooters, aerials from Sky5 showed.
"Crisis negotiators spent over two hours trying to secure the release of the hostage and a safe conclusion to the event," according to the release.
Greg Bauer told the San Bernardino Sun that he spoke with his daughter by cellphone during the terrifying ordeal.
"She kept telling him, 'You gotta let me go. You gotta let me go.' And, he said, 'I'm not afraid to die,'" Bauer told the newspaper.
Just after 4:30 p.m., Mike shot Kristin Bauer and an officer-involved shooting occurred.
Mike was pronounced dead at the scene, sheriff's spokeswoman Cindy Bachman said at a news conference following the shooting.
Kristin Bauer was transported to Loma Linda University Medical Center by helicopter.
She was listed in critical condition.
The Redlands Police Department was investigating the crimes that occurred in the Office Depot parking lot and store. The San Bernardino County Sheriff's Department was conducting the investigation into the shooting that occurred on High Avenue.
KTLA's Stephen Acosta contributed to this story.