This is an archived article and the information in the article may be outdated. Please look at the time stamp on the story to see when it was last updated.
Police were searching for two people involved in a drive-by shooting that left one person hospitalized in the Del Rey neighborhood of Los Angeles Tuesday morning.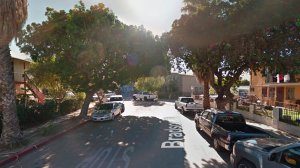 The shooting was reported in the 11500 block of Bradson Place at about 12:12 a.m., said Lt. Joseph Sanchez with the Los Angeles Police Department.
Two men in a Porsche SUV approached the victim when a passenger in the SUV opened fire, Sanchez said.
The victim was taken to a hospital in stable condition, Sanchez said.
Police set up a perimeter around the shooting scene to search for the gunman and driver.
KTLA's Stephen Acosta contributed to this report.