This is an archived article and the information in the article may be outdated. Please look at the time stamp on the story to see when it was last updated.
A woman is in custody after 96 vehicles were vandalized in a South Los Angeles neighborhood, police said Wednesday.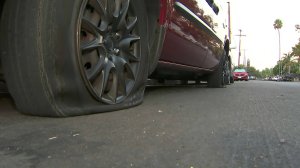 About 4 a.m. a woman was spotted in the Jefferson Park area slashing the tires of parked vehicles, according to Los Angeles Police Department officials.
LAPD initially told KTLA that there were 85 vehicles that had been damaged and 50 people were affected. Surveillance video from the scene shows the perpetrator in the act.
One of the vehicles was a church van that is driven by a pastor. A woman named Cindy Reyes said in addition to that van, three other cars owned by her family were damaged.
A man who only wanted to be identified as Danny said he had already gotten into his car when he noticed his tires were slashed.
"It sucks that it's so early in the morning, nothing's really open right now, making us late to work," Danny said.
The suspect, Danielle Brown, 29, was arrested and is expected to be charged with felony vandalism. She was described as being homeless. She is being held on $21,000 bail.
A KTLA reporter and photographer spotted what appeared to be a pocket knife at the scene and alerted police, who took the blade for evidence. Officers also found a razor at the scene.
No further details have been released.
.@LAPD tells me 85 cars vandalized overnight in Jefferson Park. Women suspect in Custody @KTLA pic.twitter.com/4YLsz1a4eA

— mark mester (@mester_mark) September 19, 2018
.@LAPD find what could be weapon used in overnight vandalism that impacted 85 vehicles @KTLA pic.twitter.com/VLhXu0uJnx

— mark mester (@mester_mark) September 19, 2018