This is an archived article and the information in the article may be outdated. Please look at the time stamp on the story to see when it was last updated.
A friend has been arrested in connection with the homicide of Blaze Bernstein, the University of Pennsylvania student whose body was found in an Orange County park a week after he was reported missing, an Orange County Sheriff's Department officials announced Friday.
The suspect was identified as Samuel Woodward, 20, a friend of the victim, officials announced during a news conference. He was arrested Friday afternoon on suspicion of homicide.
The two attended the Orange County High School of the Arts in Santa Ana and had recently been in communication. Bernstein, 19, of Lake Forest, was found dead in a shallow grave on the outskirts of Borrego Park on Tuesday after being reported missing by his parents on Jan. 3.
His family discovered that he had left his wallet and glasses at home and he was not returning their phone calls. The death was determined to be a homicide, but it remains unclear exactly how Bernstein died.
The motive also remains under investigation.
Undersheriff Don Barnes said authorities will not elaborate on the condition of the body. A 16-page affidavit obtained by the Orange County Register this week described information given to investigators by Woodward who said he drove the victim to the park on Jan. 2.
According to Woodward, Bernstein went to the park alone to meet someone else. Woodward said he waited for his friend, left the area and went back to search for Bernstein, but he said he never saw the victim again.
Woodward then said he went to his girlfriend's house in Tustin, but was unable to tell investigators her last name or where exactly she lived, according to the affidavit.
Woodward, of Newport Beach, apparently had scratches on his hands and dirt under his fingernails, but he nervously explained that he belonged to a "fight club" and had gotten his hands dirty in a scuffle. Woodward had camping equipment inside his car and apparently tried to cover his hands when he tried to open a door, according to the document.
Based on the inconsistencies in their interviews with Woodward, as well as DNA evidence, authorities served search warrants and arrested him in connection with the homicide. Investigators said that Woodward had been "cooperative" during the investigation into the missing person's case, but he subsequently requested an attorney after being taken into custody.
Though Woodward told authorities that Bernstein was meeting a third person at the park, investigators do not believe anyone else was involved in the crime. Undersheriff Barnes said investigators believe Woodward picked up Bernstein at home, the two drove around the neighborhood before arriving at Borrego Park.
Barnes would not go into detail about how or when Bernstein died.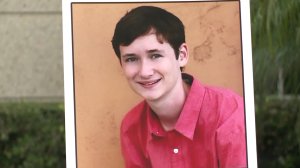 "As a parent myself, I put myself in the shoes of the Bernsteins, but cannot imagine the grief they must now face," Barnes said. Annee Della Donna, an attorney representing the family, read from a statement during a news conference saying that they thank law enforcement and volunteers who helped search for their son.
"We will continue to search for justice," the statement read.  "Blaze wanted to make the world a better place. With his death, a beautiful light has been extinguished."
His family has set up a memorial fund at the Jewish Community Foundation Orange County in their son's name. The money will go to organizations that help children and families in need, according to a post on the Facebook group "Help Us Remember Blaze Bernstein."
https://twitter.com/bernsteinmom/status/951940725301698560