This is an archived article and the information in the article may be outdated. Please look at the time stamp on the story to see when it was last updated.
A vehicle crashed into a two-story residence in Eastvale, causing a small blaze to erupt early Monday morning, according to the Riverside County Fire Department.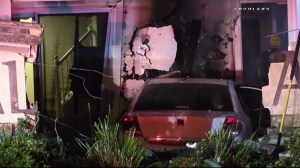 The collision occurred just before 2:15 a.m. in the 13800 block of Dellbrook Street, fire officials said.
Crews arrived to find smoke and fire visible from the home's first floor. It appeared the collision had caused the car to burst into flames, which quickly spread to the house, a fire official at the scene said.
 About two dozen firefighters responded to the scene and were able to extinguish the blaze within 20 minutes.
Paramedics evaluated one resident at the scene for injuries that were not considered to be life-threatening, officials said.
All occupants of the home were safely evacuated, according to the Fire Department. No one was inside the car by the time crews checked it out, and authorities believe a driver and passenger left the crash site.
"It appears that two parties that were in the vehicle fled the scene," Battalion Chief Josh Janssen said outside the home.
The American Red Cross was asked to assist five residents who were displaced as a result of the incident, fire officials said.
A spokesperson for the Riverside County Sheriff's Department said they were still searching for a "suspect" in the crash, and no arrests have been made.
Anyone with information about the incident was encouraged to call the Eastvale Police Department, which is serviced by the Jurupa Valley Sheriff's Station, at 951-55-2600.
KTLA's Irving Last contributed to this story.