This is an archived article and the information in the article may be outdated. Please look at the time stamp on the story to see when it was last updated.
A fire broke out during a chemistry experiment Tuesday in a Cal State Long Beach classroom, leaving one person injured, authorities said.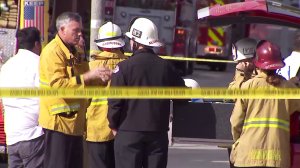 Firefighters were called to the campus about 1:20 p.m., when students working with lithium hydroxide and lithium metal experienced a chemical reaction that sparked a blaze, according to the Long Beach Police Department.
They extinguished the fire about a half hour later. One person was taken to a hospital for treatment of unspecified injuries. It's unclear if the injured person was a student.
Authorities warned students to avoid the area as hazardous materials specialists assessed the situation.
Read the full story on LATimes.com.