This is an archived article and the information in the article may be outdated. Please look at the time stamp on the story to see when it was last updated.
A man was dead and two others were injured after an encounter with Barstow police in a Walmart parking lot on Thursday, authorities said.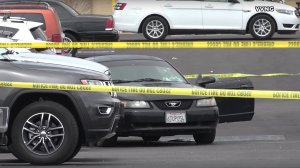 Police were called about a suspicious black Mustang in the parking lot of the retail store, located at 301 Montara Road, shortly before 11 a.m., said Cindy Bachman, a public information officer for the San Bernardino County Sheriff's Department, which is investigating the incident.
It's unclear what exactly was suspicious about the car, but Bachman said once officers arrived on scene, they recognized the driver as a man wanted for questioning in connection with a stolen vehicle case. There were also three passengers in the car at the time.
The Mustang pulled into a parking stall but, as two police patrol vehicles approached, the Mustang driver reversed and accelerated toward the officers, striking one of the Barstow police cars, according to Bachman.
The officers got out of their vehicles and ordered the Mustang driver to stop and exit his car. But he allegedly sped toward police again instead and hit the second patrol vehicle.
That's when at least one police officer fired their weapon. Officials have not released details on how many officers discharged their guns or how many shots were fired, but at least two people were hit. Footage from the scene shows eight bullet holes in the Mustang's windshield and a shattered driver's side window.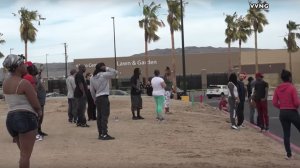 The driver was fatally struck and died at the scene, Bachman said, while a female passenger was airlifted to Arrowhead Regional Medical Center with two gunshot wounds. No details were released about her condition.
Two other men in the car had allegedly fled on foot. At some point, one was injured in his lower extremities but it's unclear how, according to Bachman.
"I can't be more specific than that because the officers just don't know how he was injured," she said.
The second male passenger was unhurt and was being held at the Barstow police station for questioning.
A group of about 20 people gathered in the Walmart parking lot in the shooting's aftermath, overlooking detectives as they began their investigation.
"You're scared, don't mean you gotta shoot," one woman at the scene can be heard yelling. "Justice will be served. God knows what happened."
San Bernardino County sheriff's officials are continuing to probe the incident. Anyone with information can contact Detective Bruce Southworth at 909-387-3589, or submit a tip anonymously via 800-782-7463.