This is an archived article and the information in the article may be outdated. Please look at the time stamp on the story to see when it was last updated.
At least one person died and two people were airlifted after two motorcycles collided on Angeles Crest Highway on Friday afternoon.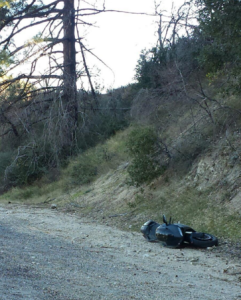 The head-on collision was reported about 1:50 p.m. at mile marker 45, about 2 1/2 miles east of the junction with Upper Big Tujunga Canyon Road (map).
A Caltrans worker was the first person on scene, according to California Highway Patrol Officer Chad Guin.
The deadly incident occurred when a motorcyclist drove into oncoming traffic in an attempt to pass a vehicle, according to Monica Lawson, who said she was inside the vehicle and witnessed the crash.
The motorcyclist then collided head-on with a second motorcycle, and Lawson and her husband stopped to give the victims aid using a medical kit they kept inside their vehicle.
"It was a very traumatizing and frustrating scene," Lawson said, because one of the three people involved died.
Lawson and her husband also did not have cellphone service and were not able to immediately report the crash, which she said occurred around 1:35 p.m.
Another witness who contacted KTLA but did not want to be identified by name said a trauma nurse and her husband saw the crash and tried to resuscitate the motorcyclist but were not successful.
The witness said he and his brothers blocked off the roadway and called 911.
One person was declared deceased at the crash site, and two others were airlifted to a hospital by the Los Angeles County Sheriff's Department, Guin said.
The Sheriff's Department tweeted a photo of medics caring for two riders in the helicopter.
The unidentified witness told KTLA that a man and woman who had been on a BMW motorcycle were airlifted. The man who was killed was riding a new Ducati with dealer plates, the witness said.
It was 15 to 20 minutes before authorities arrived, according to the witness. Lawson said it took at least 35 minutes.
Angeles Crest Highway, a curving and scenic road through the San Gabriel Mountains, is popular with motorcyclists.
KTLA's Ashley Soley-Cerro contributed to this report. 
Head on motorcycle vs motorcycle crash, ACH mm45, SEB Tac Medics caring for riders. #LASD Air 5 airlifting two. pic.twitter.com/VVkA4def3H

— SEB (@SEBLASD) October 30, 2015