This is an archived article and the information in the article may be outdated. Please look at the time stamp on the story to see when it was last updated.
Three people were shot, one fatally, when gunfire erupted in Moreno Valley Friday night, sheriff's officials reported.
Deputies responded to reports of an assault with a deadly weapon around 9:20 p.m. Friday at a location in the 22900 block of Allies Place, the Riverside County Sheriff's Department reported. Responding deputies found two women and a man suffering from gunshot wounds.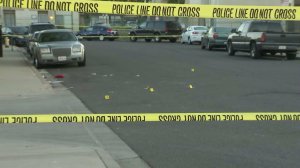 One woman was taken to a local hospital with life-threatening injuries.
The other woman and the man were taken to local hospitals with non life-threatening injuries.
One of the victims died at the hospital after the shooting, but it was unclear which victim it was, officials said Saturday morning.
Police tried to pull over a vehicle that was seen speeding away from the area after the shooting, but the vehicle did not stop. Officials said a brief pursuit was initiated during which the vehicle ran a red light causing a traffic collision.
The officers were unable to continue following the possible suspect vehicle, and the occupants got away.
On Saturday morning officers were searching a local apartment complex for leads in the case.
No other information was released.