This is an archived article and the information in the article may be outdated. Please look at the time stamp on the story to see when it was last updated.
A 30-year-old Brea man was killed and his passenger severely injured when their vehicle was struck early Friday by a possibly drunk wrong-way driver on a freeway transition road Santa Ana, according to CHP.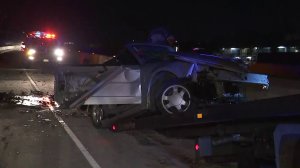 About 2 a.m., a California Highway Patrol unit saw the wrong-way driver – described as a 30-year-old man from Lake Forest in a 2008 Toyota Camry – on the northbound 55 Freeway connecter with the 5 Freeway.
The CHP officer notified additional officers, who tried to get the Camry driver to stop, but he was driving too fast and he eventually crashed into another vehicle going in the opposite direction, CHP Sgt. Todd Kovaletz told KTLA.
The collision caused both vehicles to crash into concrete barrier walls along the roadway.
The driver of the other car, a 2000 Ford Mustang, was identified by the Orange County coroner's office as Michael Johnston Jr., 33, of Brea. He was pronounced dead at the scene.
His passenger, a 24-year-old Burbank woman, was extricated from the vehicle and taken with critical injuries to Orange County Global Medical Center in Santa Ana. The Camry's driver was likewise hospitalized with critical injuries. Neither of them has been identified.
Kovaletz said the wrong-way driver was going "well over" 100 mph and described the impact as "very violent."
Alcohol is believed to be a factor in the collision, a CHP news release stated.
The victims' vehicle ended up wedged against the center divider after the crash.
The wrong-way driver was expected to survive. He was arrested on suspicion of felony driving under the influence and felony vehicular manslaughter.
KTLA's Melissa Pamer contributed to this article.