This is an archived article and the information in the article may be outdated. Please look at the time stamp on the story to see when it was last updated.
A high-speed crash in Santa Ana left one person dead, two injured, and two more sought by police Monday morning.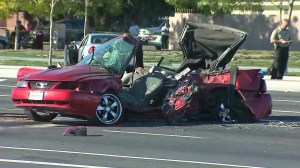 Two cars were involved in the crash that occurred about 2 a.m. near the intersection of North Bristol Street and West 1st Street, Sgt. Oliver Grant with the Santa Ana Police Department confirmed.
A red Mustang was traveling eastbound on West First Street when it was T-boned by a silver Mercedes-Benz that was traveling southbound on North Bristol Street, Cmdr. Enrique Esparza of the Police Department said.
Witnesses initially reported the collision as a possible street race, but investigators at the scene ruled that out based on the way the cars collided.
One of the drivers likely ran a red light, but it was unclear which one, according to investigators.
The driver of the Mustang died at the scene, Esparza confirmed. The driver's identity has not been released.
Two people traveling in the Mercedes-Benz were taken to a local hospital, according to Esparza. Their conditions were unknown.
"We believe there may have been more occupants in that vehicle," Esparza said.
Police were searching for two people who fled the scene following the crash, Grant said.
Video showed the Mustang and the Mercedes-Benz were both badly damaged following what was described by investigators as a high-speed collision.
North Bristol Street was closed in both directions at West 1st Street during the investigation, which was expected to take several hours.