This is an archived article and the information in the article may be outdated. Please look at the time stamp on the story to see when it was last updated.
EL SERENO, Calif. (KTLA) — A driver being pursued by LAPD officers hit two cars Saturday afternoon, killing the driver of one of the vehicles.
Three other people were injured in the violent crash at the intersection of Poplar Boulevard and Huntington Drive, according to officials with the Los Angeles Fire Department.
Officers initially attempted to pull the driver over on suspicion of driving recklessly.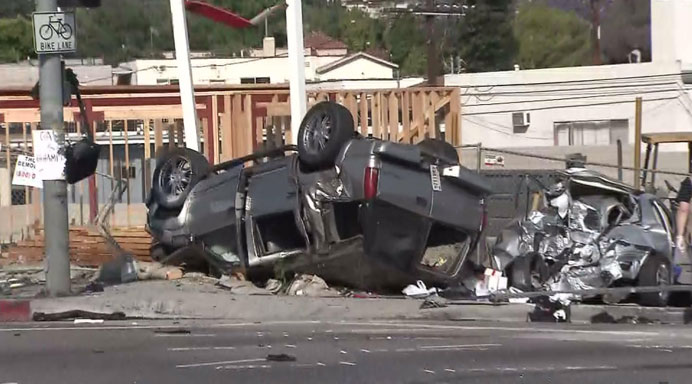 Less than a minute into the pursuit, the motorist slammed into the sedan and Toyota 4Runner, which overturned.
The driver managed to climb out of his SUV and fled the scene on foot.
Officers set up a perimeter in the area and searched with a police dog, LAPD Detective Gus Villanueva said.
The driver was apprehended and taken to the hospital after the police dog bit him, Villanueva added.
Investigators recovered a gun from the man's car, according to officers.
Check back for updates on this developing story.