This is an archived article and the information in the article may be outdated. Please look at the time stamp on the story to see when it was last updated.
One person died in a fiery six-vehicle crash in Torrance on Saturday afternoon after intense flames thwarted a rescue effort from off-duty firefighters who tried to get the victim out of the burning vehicle, authorities said.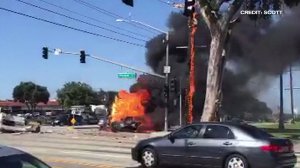 Firefighters responded about 1:40 p.m. to the intersection of Madrona Avenue and Torrance Boulevard, where the overturned 1984 GMC pickup truck had hit a power pole supporting high-tension electrical lines, according to Chief Carl Besanceney of the Torrance Fire Department.
The vehicle caught fire and became fully engulfed in flames, trapping the lone occupant inside, according to a news release from the Torrance Police Department.
A witness's video shows an explosion amid dramatic flames and a plume of thick black smoke rising from the truck.
Several off-duty firefighters who were in the area at the time rushed to the burning vehicle and tried to rescue the driver, police said. Their attempts were unsuccessful, however, due to the intense heat of the flames.
The Fire Department coordinated with Southern California Edison personnel, who de-energized the power lines so that firefighters could approach the blaze and extinguish it, Besanceney said.
The unidentified driver of the burned-out truck was pronounced dead at the scene, the fire chief said.
Four others were treated for minor injuries.
Authorities shut down Torrance Boulevard between Maple Avenue and Amie Street, and Madrona Avenue between Opal Street and Maricopa Avenue while they investigated the fatal collision and cleaned up the scene
The cause of the crash was unknown.
Anyone with information is urged to call the Police Department's Traffic Division at 310-618-5557.