This is an archived article and the information in the article may be outdated. Please look at the time stamp on the story to see when it was last updated.
LOS ANGELES (KTLA) — One pedestrian was killed and several others were hurt when a pickup truck veered onto a busy downtown L.A. sidewalk on Sunday.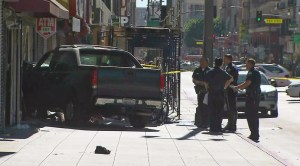 The accident happened just before 2 p.m. on Broadway between 3rd and 4th streets.
A dark-colored 2006 Chevy Avalanche was traveling southbound on Broadway when the driver lost control and jumped onto the sidewalk.
The truck struck five pedestrians before crashing into a building.
A 52-year-old woman was killed and four other people were transported to local hospitals with non-life-threatening injuries. The identity of the woman has not been released.
The driver, identified as Juan Moreno, and his passenger were also injured and were taken to the hospital.
"Based on what we've determined as far as the low rate of speed of the vehicle, we're just fortunate that more people weren't injured," said LAFD Asst. Chief Bob Franco.
"This is a very vibrant, very busy part of the city on a Sunday afternoon. There's lots of shops here," he added.
Police are investigating whether Moreno may have had a health issue that caused him to lose control of the truck.
Broadway was shut down between 3rd and 4th during the investigation. The building, which houses a restaurant, was determined to be safe.