This is an archived article and the information in the article may be outdated. Please look at the time stamp on the story to see when it was last updated.
One person was killed after a van crashed into a bicyclist and a building in Compton, officials said Monday.
The crash was reported about 10:50 a.m. in the 1100 block of East Compton Boulevard, according to the Los Angeles County Sheriff's Department.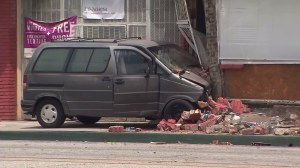 A preliminary investigation indicates that the driver tried to avoid hitting the bicyclist but was unable to and crashed into the building, officials said. The bicyclist was declared dead at the scene.
The bicyclist was declared dead at the scene by the Compton Fire Department.
The driver was taken to a hospital with unknown injuries.
The crash occurred at a business that was set to open this week. Harvey Holt, owner of Wall Street Realty, said he was getting pictures of the crash sent to him and he thought the victim might be someone he knew.
"My heart goes out to them and their families," Holt said.
The building was compromised and may be red-tagged, he added.
KTLA's Briana Epps contributed to this story.