This is an archived article and the information in the article may be outdated. Please look at the time stamp on the story to see when it was last updated.
One person was killed when a car split in two following a violent collision with a pickup truck near San Jacinto Friday morning.
A red sedan and a white pick truck collided on southbound Highway 79 near Gilman Springs Road about 6:15 a.m., according to the California Highway Patrol's incident log.
One person died in the crash, officials confirmed. His or her name has not yet been released.
It was unclear if anyone else was injured.
The crash left a trail of debris and wreckage all along the southbound lanes, video from the scene showed.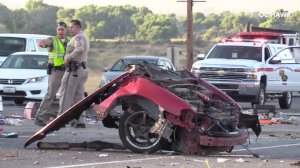 The front portion of the red sedan was close to the white truck — which sustained significant front-end damage — near the shoulder of the highway, according to the footage.
The back of the red sedan appeared to be a few dozen feet away, in southbound lanes, the video showed.
A portion of the highway was shut down after 6:30 a.m. for several hours as crews cleared the wreckage from the roadway.
All lanes were fully open again a short time before 10 a.m., Caltrans tweeted.
No additional information was released about the crash, which is under investigation.