This is an archived article and the information in the article may be outdated. Please look at the time stamp on the story to see when it was last updated.
A fatal crash on the 91 Freeway in Anaheim left the eastbound lanes temporarily closed Tuesday morning.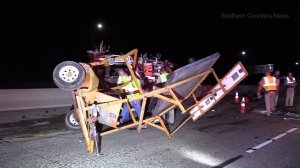 The crash occurred just before 3:30 a.m. when a car crashed into a construction sign near Tustin Avenue, according to the California Highway Patrol's traffic incident log.
A private contractor was hooking up an "arrow sign" to end a planned closure of the number one lane when an approaching Lexus was spotted, CHP Officer Florentino Olivera said.
The contractor jumped out of the way before the Lexus slammed into the sign and the truck the contractor was hooking it up to.
The Lexus driver, described only as a 35-year-old man, was pronounced dead at the scene, Olivera said.
The contractor was not injured.
The cause of the crash was under investigation. "At this time there's no indication of any alcohol or drugs," Olivera said.
All lanes and the Tustin Avenue onramp were temporarily shut down due to the crash, a CHP spokesperson said.
One lane of traffic was moving past the wreckage as of 5 a.m., video showed.
The freeway was cleared by about 6 a.m., according to the CHP.
KTLA's Alexandria Hernandez contributed to this report.