This is an archived article and the information in the article may be outdated. Please look at the time stamp on the story to see when it was last updated.
A 42-year-old man was shot and killed early Sunday morning outside a South L.A. home where a party was being held, police said.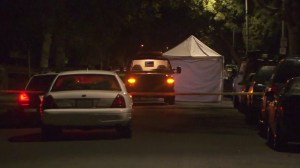 The unidentified victim exited the house, in the 2000 block of West 77th Street (map), about 1:30 a.m. and engaged in a conversation with someone who had pulled up in a light-colored sedan, said Lt. Jeff Nolte of the Los Angeles Police Department.
A verbal altercation ensued and the occupant of the vehicle opened fire with a handgun, Nolte said.
The victim was pronounced dead at the scene. Authorities had earlier described him as being 40 years old.
Homicide detectives responded to the scene, in the residential community of Manchester Square, and interviewed guests of the party.
However, investigators have yet to locate anyone who witnessed the shooting itself, Nolte said.
The shooter was described as a black man, 6 feet tall, 157 pounds, wearing a dark hooded sweatshirt, the LAPD said.
Anyone with information is asked to call the Police Department's South Bureau at 213-485-4251.