This is an archived article and the information in the article may be outdated. Please look at the time stamp on the story to see when it was last updated.
One man was killed, and two others were injured, Thursday evening when three cars collided in the Fashion District area of Los Angeles, fire officials reported.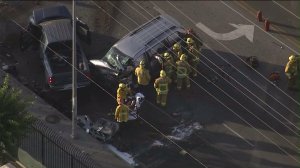 The crash happened just before 7 p.m. at 1777 East Olympic Blvd. when two pickup trucks and one minivan collided, the Los Angeles Fire Department reported. LAPD officials told KTLA the driver of a blue Dodge Dakota pickup truck lost control as he crossed the railroad tracks at Alameda, crashing into another pickup truck and a minivan.
The driver of the minivan was briefly trapped in the wreckage and was later pronounced dead at the hospital, officials said.
The drivers of the pickup trucks both suffered minor injuries.
The driver of the Dakota fled the scene. His passenger, along with the driver of the other pickup truck, were transported to the hospital with minor injuries.
Officers from the Los Angeles Police Department were investigating the crash.
No other information was available.
KTLA's Nidia Becerra contributed to this story.