This is an archived article and the information in the article may be outdated. Please look at the time stamp on the story to see when it was last updated.
One of two dogs with medical conditions who were disappeared during a Culver City home burglary was returned to its owner about one week after the incident, the woman told KTLA on Sunday.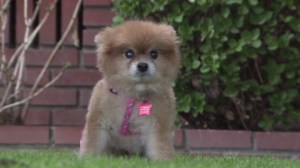 Penny, a 12-year-old Pomeranian, and Spice, a 5-year-old poodle mix, were stolen during a home burglary on Friday, Nov. 21, according to owner Sue Downing, who feared the perpetrators planned to sell the small dogs.
Penny, who had a heart condition and required medication, was returned to Downing Saturday.
"I am so grateful to the gentleman who came forward after he realized he had purchased her," she said.
The search for Spice, however, continued.
"He didn't know anything about the other dog … so it's obviously a mixed blessing," she said.
Spice walked with a limp due to a birth defect. It was microchipped, but not wearing a collar at the time of the incident.