This is an archived article and the information in the article may be outdated. Please look at the time stamp on the story to see when it was last updated.
A woman — possibly a grandmother — was killed and a 7-year-old girl was injured during a multivehicle crash on a residential street in East Hollywood Saturday afternoon, according to officials.
The incident began when a black SUV crashed into a silver SUV that was stopped southbound on North Edgemont Street at Fountain Avenue, Los Angeles Police Department Lt. Melody Hainline said.
The vehicles "joined together," she said, and traveled southbound about a block before separating.
The crash was initially reported by the Los Angeles Fire Department as occurring around 2:37 p.m in the 1180 block of North Edgemont Street, where the vehicles were believed to have separated.
The black SUV then veered into the opposing lane and hit at least two parked vehicles before flipping onto its side.
Video of the scene showed the black SUV hitting a parked white car head-on before flipping onto its side.
A vehicle, believed to be the silver SUV, continued to travel down the street before turning the corner, the video, provided by Instagram user @MrHollywood76, appeared to show. Hainline said the driver stopped at the scene.
A woman who was inside the black SUV died at the scene and a 7-year-old girl was injured and hospitalized, Hainline said. The child did not appear to have life-threatening injuries.
The woman was believed to be the girl's grandmother, and her body was covered by a sheet outside the SUV at the scene. It was not immediately known if she was wearing a seatbelt.
The male driver of the silver SUV stopped at the scene, and although cameras captured him being handcuffed, Hainline said he was not arrested.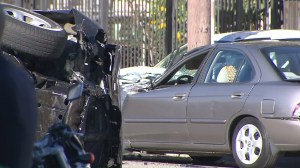 The cause of the crash was under investigation, and road rage was not suspected.
"Speed was a factor in the sense that the black SUV had enough momentum to bring both cars into this direction," she said, adding that it was not known if speed caused the initial collision.
Although the incident occurred on a residential street, locals told Hainline drivers often use Edgemont as a main thoroughfare.
The Fire Department initially reported a five-vehicle crash, but Hainline later said two SUV's and two parked vehicles were involved.
Feven Kiflegiorgis contributed to this report.