This is an archived article and the information in the article may be outdated. Please look at the time stamp on the story to see when it was last updated.
Amid a recent surge in homicides in Los Angeles, a man died and two other people were injured Friday after being shot while driving in South L.A., according to Los Angeles Police Department officials.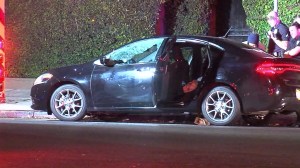 Police responded to reports of gunfire near East 93rd Street and South Central Avenue around 3:10 a.m., Meghan Aguilar with LAPD's media relations said. The location bordered South L.A.'s Green Meadows neighborhood and unincorporated Florence-Firestone.
Two men and two women were heading northbound on Central in a black car when another vehicle pulled alongside them and opened fire, Aguilar said.
Two men and a woman inside the car were shot, and all were transported to a hospital. One of the men later died, Aguilar confirmed.
A relative and neighbor of the man who died identified him as Santyone Moore. He would have celebrated his 28th birthday next month.
The shooting was believed to be gang related, but Aguilar did not know if any of the victims were known gang members.
A description of the shooter or vehicle used was not immediately known. The investigation was further hindered by a lack of bullet casings at the scene, making it more difficult to identify the weapon used.
The incident came amid a recent surge in homicides in the area and growing hostility toward officers nationwide, Aguilar said.
The LAPD announced on Wednesday that 2015 has seen an uptick in homicides – up 7 percent this year compared to the same time period in 2014, according to the Los Angeles Times.
August was a "horrible month," which saw the killing of 39 people in the city, police Chief Charlie Beck told the Times. It was the deadliest August for L.A. since 2007.
Nearly half of the 39 deaths occurred in South L.A., and many were likely due to gang violence, which has seen an increase as well, Beck said.
Officers continued to work while aware of growing tensions surrounding alleged police brutality since several high-profile deaths of black men, including Michael Brown and Freddie Gray, at the hands of officials continued to gain attention nationwide.
"But we're here to do our job, and that is to serve the community of Los Angeles," Aguilar said at a press conference about Friday's shooting. "So the awareness of the hostility that may be directed toward law enforcement in general doesn't mean that we're not here or that we won't be here to support the community."
One local man who has lived in South L.A. for 30 years said he wished more people focused on crime committed within the community.
"All these people … protesting about how the police are killing us, but there's no one protesting about how we killing each other," Thomas Reid said. "It's just sad. Why would you want to kill each other?"
Officials also continued to investigate social media postings stating there would be a 100 days and 100 nights of violence in South L.A.
Friday's shooting and the recent spike in crimes did not appear to have a correlation to the rumored threat, she said.
More video: