This is an archived article and the information in the article may be outdated. Please look at the time stamp on the story to see when it was last updated.
A search was underway to find whoever was responsible for shooting and killing a young man at a house party in Sylmar early Sunday morning, authorities said.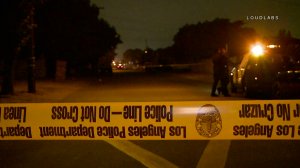 The fatal shooting was reported about 1:50 a.m. in the 14000 block of Tyler Street, according to Capt. Natalie Cortez with the Los Angeles Police Department.
There was some sort of altercation between an unknown number of people at the party, and the victim ended up being shot, LAPD Sgt. Robert Leary told KTLA. The victim was transported to a local hospital where he was pronounced dead.
Investigators did not release the young man's name but said he may have been in his late teens or early 20s. He was believed to be a local high school football star who possibly graduated in the last year, friends told police.
LAPD stated that the party appeared to have been organized through social media, causing some to think it was an open invitation.
Authorities said they were looking for four suspects in connection with this case. They were only described as Hispanic males.
"We don't know if they saw the invitation on social media or how they came to this house, but they did arrive and shortly after a shooting did occur," he said.
The sergeant added that it appeared the attendees did not know the suspects.
By the time officers arrived at the scene, most of the partygoers had left, Leary said. It was not known how large the party was.
Another person—a man believed to be in his early 20s—was found a few blocks away with a graze wound, authorities said. He was transported to a hospital for treatment and later released. However, detectives were working to determine whether he was injured at the party or someplace else.
Meanwhile, the sergeant warned of the possible consequences that could arise from these types of gatherings, even in a "quiet neighborhood" like this one.
"Don't be throwing these social media parties if that's what it comes out to be because unfortunately you might not get people that you want at your party," Leary said.
Officials said it was unclear whether gangs were involved in the fatal shooting, which remained under investigation.
Anyone with information about this case was asked to contact L.A. Regional Crime Stoppers at 800-222-8477.