This is an archived article and the information in the article may be outdated. Please look at the time stamp on the story to see when it was last updated.
One person died and two others were trapped after a vehicle drove off a cliff and fell more than 500  feet near Mount Baldy in the Angeles National Forest, California Highway Patrol officials said Sunday.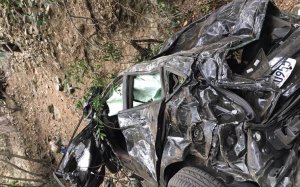 Officials received a call about 10 a.m. regarding the crash that occurred off Glendora Ridge Road at mile marker 8.04, according to CHP Officer Peter Nicholson.
Personnel from CHP,  the Los Angeles County Fire Department and Los Angeles County Forest Department responded to the scene.
Around noon, Nicholson told KTLA that two people remained trapped in the vehicle. Around 2 p.m., the Los Angeles County Sheriff's Department sent a photo of the mangled vehicle that indicated the victims were no longer trapped.
The road was closed in both directions and will remain closed for an unknown duration, officials said.
Authorities have not yet released a description of the vehicle and the cause of the crash is unknown.
KTLA's Steve Granado contributed to this report.