This is an archived article and the information in the article may be outdated. Please look at the time stamp on the story to see when it was last updated.
One person was killed Thursday afternoon in a crash on a freeway offramp in Norwalk, officials reported.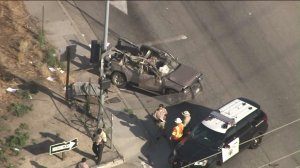 The crash happened about 4:23 p.m. at the southbound 605 Freeway's Firestone offramp, the California Highway Patrol reported.
Officials issued a SigAlert for the Firestone offramp while investigators remained on scene. Just before 8 p.m. the offramp was reopened.
It's unclear what led to the deadly crash.
No other information was released.
Check back for updates on this developing story.
KTLA's Nidia Becerra contributed to this story.