This is an archived article and the information in the article may be outdated. Please look at the time stamp on the story to see when it was last updated.
One person remained hospitalized Monday, three days after a fight between two fans outside Dodger Stadium, according to LAPD.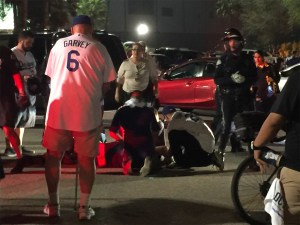 An argument escalated into a physical altercation about 10:30 p.m. Friday outside Dodger Stadium in one of the parking lots, Los Angeles Police Department spokesman Officer Mike Lopez said.
Friday marked Game 1 of the National League Division Series between the Dodgers and New York Mets. The Mets won 3-1. The fight occurred after the game, Lopez said.
The victim, whom Lopez described as "younger" but not a juvenile, was transported to a  hospital in critical but stable condition, the officer said.
Lopez initially said the person was in critical condition Monday, but later clarified that the person had been critical but was now stable.
No one was arrested, Lopez said.
The LAPD's Robbery-Homicide Division, which investigates high-profile crimes, was on the case and was looking at surveillance video and interviewing witnesses.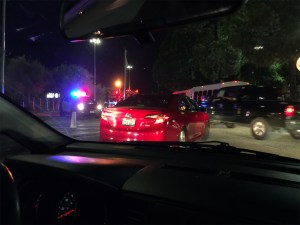 Lopez did not know if the fight occurred between fans of opposing teams or fans of the same team, and, if so, which team.
A witness to a fight that occurred around that time said an altercation took place in Lot L of the Dodger Stadium parking lot. A fight broke out and a Mets fan threatened to shoot a Dodgers fan, whose mother began to scream at the Mets fan to get away, the witness said.
An attack on San Francisco Giants fan Bryan Stow after opening day in 2011 prompted multiple civil lawsuits and landed two Dodgers fans in prison. Stow suffered permanent brain damage.
KTLA's Scott Williams contributed to this article.