This is an archived article and the information in the article may be outdated. Please look at the time stamp on the story to see when it was last updated.
The driver and passenger in a car that was apparently speeding were injured after the vehicle crashed into a Santa Ana building and somehow ended up lodged in the second floor, Orange County Fire Authority officials said Sunday.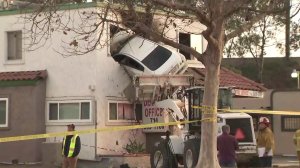 The car remained lodged inside a dental office along at 319 E. 17th St. until about 7:50 a.m., when crews were able to get the vehicle out.
Debris from the building lay scattered on the floor below what appears to be a white sedan.
The Santa Ana Police Department said that the vehicle – a white Nissan sedan – was traveling at a very high rate of speed down French Street when the driver hit the center median.
The car "went airborne and landed into the building," OCFA tweeted.
Police said the driver admitted to using narcotics and was expected to be admitted to a hospital for observation.
​Cpl. Anthony Bertagna said police will be submitting the case to the Orange County District Attorney's Office after running toxicology tests to determine possible charges.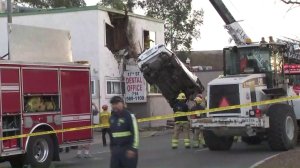 A fire was quickly extinguished after the crash, officials said.
Both people inside the car were able to get out safely and suffered minor injuries, according to the OCFA. 
Orange County firefighters, along with a Los Angeles County search and rescue team, removed the vehicle from the building.
Public works officials also responded to the crash to examine the integrity of the building.
OCFA on scene in SANTA ANA of a vehicle into a building. One person still trapped inside the vehicle. pic.twitter.com/sWmtovu0Kd

— OCFA PIO (@OCFA_PIO) January 14, 2018
OCFA in Santa Ana of a vehicle that crashed into the building. The fire was quickly extinguished, both victims are out of the vehicle safely with minor injuries. Members from OCFA & LA COUNTY Urban Search & Rescue teams are removing the vehicle from the building. pic.twitter.com/x29WvTkNGk

— OCFA PIO (@OCFA_PIO) January 14, 2018
KTLA's Sarah Fenton contributed to this story.