This is an archived article and the information in the article may be outdated. Please look at the time stamp on the story to see when it was last updated.
One person died in the Mt. Baldy area and another was rescued from rising floodwaters that shut down the town of Forest Falls in the San Bernardino National Forest on Sunday, as thunderstorms moved across Southern California and prompted flash flood warnings in multiple areas.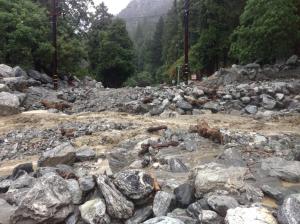 The unidentified person in Forest Falls, who was not injured, was taken to a nearby fire station, the San Bernardino County Fire Department said on Twitter.
"Most roads are impassible due to mudflows" in Forest Falls, San Bernardino County Fire Capt. Kyle Hauducoeur told CNN. The mountain community, located about 15 miles east of Redlands, has a population of about 2,000.
Authorities were bringing in bulldozers and other heavy equipment in an attempt to reach about 500 children at a nearby church camp, Hauducoeur said.
Swift-water rescue teams from the Fire Department responded to the area, where several people were reported to be in a creek bed with debris flow along Valley of the Falls Drive, the agency said.
That road was closed to non-residents at Highway 38 (map), the department said. It was unclear when Valley of the Falls Drive would be reopened.
San Bernardino County sheriff's personnel assisted with an evacuation of the creek bed, and Forest Falls residents were instructed to "shelter in place" until the flood waters receded, authorities said.
The National Weather Service had issued a flood warning for the area until 8 p.m.
After assessing vehicles that had washed down a nearby canyon, rescue teams determined that there were no occupants inside, fire officials said.
As of 9 p.m., no injuries had been reported in Forest Falls, according to authorities. A multi-agency search of the town was underway, to account for residents and assess damage.