This is an archived article and the information in the article may be outdated. Please look at the time stamp on the story to see when it was last updated.
One person was hit by gunfire and transported after a shooting outside of Crenshaw High School on Tuesday morning, authorities said.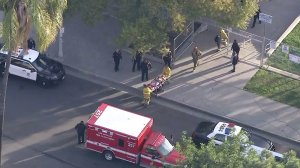 Los Angeles Police Department Officer Irma Mota told KTLA shortly after 8 a.m. that a person was down with a gunshot wound. That individual's condition was not immediately known, Mota said.
LAPD officers initially responded to a call of shots fired in the 5000 block of 11th Avenue shortly after 7:50 a.m., according to LAPD.
Crenshaw High is located at 5010 11th Ave., in the Hyde Park area of South Los Angeles.
Sky5 aerial video over the scene showed that one person strapped to gurney was loaded into a Los Angeles Fire Department ambulance and rushed away from the scene. Multiple LAPD units were also on scene, the footage showed.
The victim has not been identified, but the Los Angeles School Police Department has confirmed that individual was not a student.
The shooting happened outside the campus, and no students or staff were involved, according to Barbara Jones, a spokeswoman for the Los Angeles Unified School District. She said the school was temporarily placed on lockdown.
Students at the school were "safe," LAPD stated in a tweet sent about 8:40 a.m.
There was no immediate information about the shooter or shooters. Police have not said whether they had anyone in custody, nor did they provide a description of any suspect or suspects.
No additional information was released.
KTLA's Jennifer Thang and Stephen Acosta contributed to this story. 
#LAPD News: Shooting this morning occurred nearby Crenshaw High. Students are safe.

— LAPD HQ (@LAPDHQ) January 31, 2017