This is an archived article and the information in the article may be outdated. Please look at the time stamp on the story to see when it was last updated.
An investigation was underway on Sunday after Inglewood police opened fire on two people inside a vehicle, including a female occupant who was allegedly in possession of a firearm, authorities said.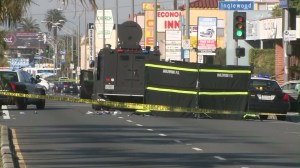 The incident began about 3:10 a.m. when uniformed officers responded to a call of an occupied vehicle that was stopped and facing westbound in the second lane at the intersection of Manchester Boulevard and Inglewood Avenue, according to a news release from the Inglewood Police Department.
When they arrived, the officers saw an armed female inside the car, police officials said in the release.
They took a position of cover before ordering both occupants out of the vehicle, the release stated.
The officers then opened fire on both occupants, but police did not say what exactly prompted the shooting.
Several witnesses told KTLA they heard multiple gunshots, with one describing the sound as being like firecrackers going off.
"I heard gunshots — like, pow, pow, pow, pow, pow — multiple gunshots," said one woman. "More than six rounds."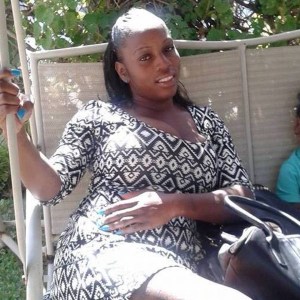 The allegedly armed female was pronounced dead at the scene; the male occupant was taken to a local hospital where he was later died from his injuries.
Their identities and ages have not yet been released by officials. Relatives and friends of the woman said she was Kisha Michael, a mother of three boys. Michael's loved ones told KTLA that they were unaware of deceased male's identity.
Police recovered a weapon at the scene, and secured and retained it for evidence, the release stated.
No additional information was released about the double fatal shooting. Investigators blocked off the street and remained at the scene for several hours after the incident.
On Sunday evening, several people gathered at the shooting location and created a makeshift memorial.
A friend of Michael's, a man who gave his name only as Jamar, remembered her as "a great mother."
"I don't feel like, I mean, even if it was a firearm — I don't think she did that," he said. "I just can't see that coming from her."
Anyone with information about the shooting was asked to call Inglewood police's Homicide Section at 310-412-5246, or the department's anonymous hotline number at 888-412-7463.
KTLA's John A. Moreno contributed to this report.